March 27, 2012
Our Second Annual Wine Sisterhood Gathering will be held March 3-5, 2013 in Napa, California. Early bird tickets are now available! 
The Wine Sisterhood Gathering is a three-day conference featuring interactive workshops, winery visits, stellar dining experiences, and time to mingle with influential women from a variety of industries and backgrounds. We'll bring together the best and the brightest influencers in social media plus entrepreneurs, trade professionals and wine lovers like you. 
Tentative Schedule (subject to change):
Home Base: Andaz Napa. This is a super-stylish boutique hotel in the heart of downtown Napa. It will be where we stay and where the morning wine education and social media seminars will be held.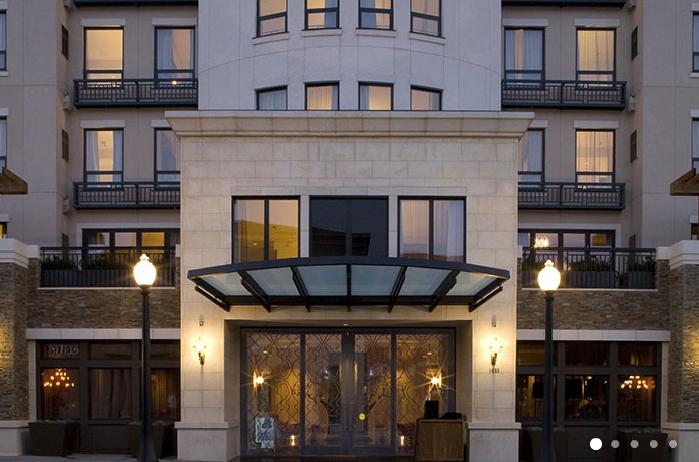 Please call the hotel directly after to book your room. 1 707 687 1234. You will be responsible for room, tax and incidentals. 
The regular cost of the gathering including all activities, meals, wine tastings, workshop and seminars is $695.00 (Early Bird price is $595.00 until Nov 30). We are limiting the group to forty sisters only to make the experience truly special.
Note about travel: Fly into either San Francisco, Oakland or Sacramento Airports, and you will need to secure your own transportation to the Andaz Napa hotel. If flying, your flight should arrive no later than 3pm in order to make it to the hotel by dinner on Sunday, Mar. 3.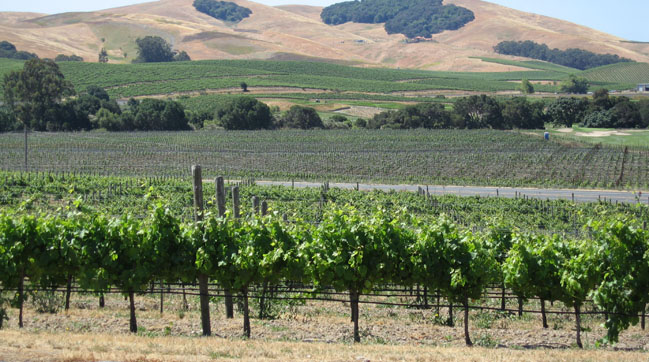 SCHEDULE OF EVENTS (subject to change)
Note: We will continue to update this page as we get more information. You can also sign up for the Wine Sisterhood Enewsletter to get the latest updates!
Sunday 3/3 6:00-9:00pm: Welcome reception. Cocktail Reception/Dinner at Raymond Vineyards. It's a Speakeasy kind of night at the fabulous Raymond Vineyards!  Named the 2012 American Winery of the Year by Wine Enthusiast for both their exquisite wines as well the spectacularly designed winery, Raymond is the perfect host for the Gathering's Welcome Reception and Wine Dinner.  From the Red Room, the members-only private club, to the Crystal Cellar, laced with fine Baccarat crystal throughout, to the quietly hidden Library Room, Raymond offers many corners to explore. Bring your flapper attire and get ready to toast in style!
Remember to check in on Foursquare and to use Foodspotting, Instagram, Pinterest, GLMPS and all your favorite apps from the moment you arrive. We'll also introduce you to some new ones in our sessions.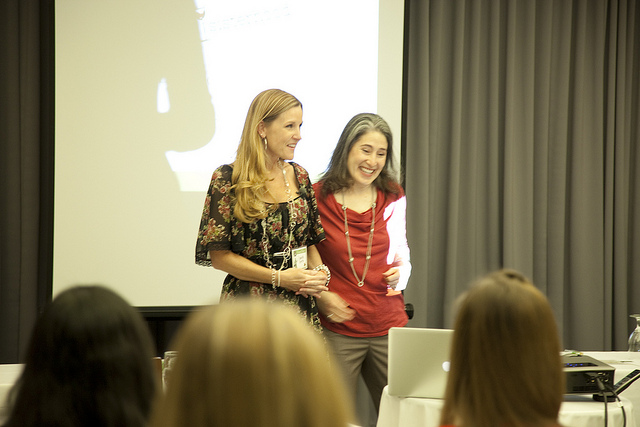 Join our Gathering hosts and co-authors Aliza Sherman (pictured: right), Web pioneer and Wine Sisterhood's Digital Diva;  and media personality and blogger Danielle Smith (pictured: left) from ExtraordinaryMommy.com, Bliss TV and more.
Day 1, Monday 3/4: 
7:00am Zumba (optional private group fitness session)
8:00am- 9:00am Breakfast - Breakfast buffet will be served in Greatroom 1 & 2 at Andaz Napa.
9:00am Gathering begins with a welcome by Wine Sisterhood Founder, Terry Wheatley. 
9:30am – 10:30am - Interactive Workshop: "Download This App Now!"
There's an app for everything these days, and knowing the best ones to use is essential for both work and life. Aliza Sherman will teach a hands-on "download these great apps and try them out now." You'll be guided to download various apps to your smartphones on the spot, create an account if you don't have one, practice posting (to Instagram, Over, Foodspotting, Corkbin, Foursquare, Pinterest for mobile & more!). You'll get easy instructions on rocking your online marketing communications and social networking with these apps. Follow Aliza on Facebook and Twitter. 
Then Danielle Smith will join Aliza throughout the weekend to encourage you to check in and experiment with social mobile apps. At the end of the Gathering, the Wine Sisterhood will create a Storify summary and PowerPoint presentation of the best tweets, posts, updates, images and video and share online.
10:30am – 11:30am Bubble University. Sport your school colors! Media Personality & Today Show contributor Thirsty Girl Leslie Sbrocco will lead a tasting workshop on the merits and differences between sparkling wine and Champagne.
Follow Leslie Sbrocco on Facebook and Twitter. 
12:00pm – 5:30pm Lunch and Winery Visits. NOTE: Before lunch on Monday, we'll break into two groups. The first group will follow the schedule as it is below. The second group will start with Day 2 lunch and winery venues, then will visit the Day 1 venues on the following day. At the end of each day, we'll meet up at the same venue for dinner. 
12:00pm – 1:30pm Don Giovanni – Lunch. A favorite among locals and visitors alike, Don Giovanni's traditional, fresh Italian dishes are complimented by a wine list offering hundreds of Napa Valley and Italian wines.  Chefs Donna Scala and Scott Warner source produce from local farmers and support ranches that raise humanely-treated, free-romaing livestock and poultry.  Be sure to savor the famous homemade pastas, freshly baked breads and local olive oil. 
Follow Don Giovanni on Facebook and Twitter. 
2:00pm – 3:45pm Chappellet Vineyard & Winery - Wine tasting and tour. Since 1967, the Chappellet family has been hand-crafting critically acclaimed wines on the rocky slopes of Pritchard Hill. Chappellet was one of the first Napa Valley wineries to plant cover crops and adopt no-till farming practices, and today the entire vineyard is farmed organically. In an ongoing commitment to sustainable and organic practices, the property is also 100% solar powered and awaiting CCOF organic certification this year.
Follow Chappellet Vineyard & Winery on Facebook and Twitter. 
4:00pm – 5:30pm Quintessa – Wine and cheese tasting. Quintessa produces one singular estate wine in the highly acclaimed Rutherford appellation of Napa Valley. Each year, the red meritage wine is a blend including some or all of the five varietals grown on the estate: Cabernet Sauvignon, Merlot, Cabernet Franc, Petit Verdot and Carmenere.  The winery, a graceful crescent-shaped design, was carefully considered for its environmental sensitivity and fits snugly into an eastern-facing hillside, disrupting little in the way of the aesthetics or natural beauty of the property. A facade of indigenous stone and natural landscaping of native plants and oak trees creates a subtle presence amidst the diverse terrain. Tasting will run 1.5 hours with, weather permitting, an outside tour. 
Follow Quintessa on Facebook and Twitter. 
6:30pm Kitchen Door - Dinner. Kitchen Door is a one-of-a-kind social gathering place located along the Napa River in the Oxbow Public Market in downtown Napa. Here, locals and Napa Valley's many visitors, from families to foodies, enjoy the widely acclaimed Chef Todd Humphries' quality cooking. For Kitchen Door, Humphries has crafted an ingredient-driven menu of handmade multi-ethnic comfort food, created with local and seasonal products, selected to complement wine regions and meant for sharing.
Follow Kitchen Door on Facebook and Twitter. 
Kitchen Door is located in the heart of downtown Napa's up and coming Oxbow District, in the Oxbow Public Market — a one-of-a-kind place, not to be missed. Whether you are in search of a tasty picnic, great 'take-out', fabulous meal provisions, or if you are looking for a bottle of wine, river front patio dining and a unique shopping experience, Oxbow will answer all your needs under one roof.
Follow Oxbow Public Market on Facebook and Twitter. 
Day 2, Tuesday 3/5: 
7:00am Zumba (optional private group fitness session)
8:00am – 9:00am Breakfast - Breakfast buffet will be served in Greatroom 1 & 2 at Andaz Napa.
9:00am – 9:30am Special Presentation: We are honoring Leila Janah for her amazing work supporting women. Samasource, a nonprofit she founded four years ago, connects people, especially women, living in poverty to microwork — small, computer-based tasks that build skills and generate life-changing income. The same concept inspired her to co-found Samahope, a new site to crowdfund surgeries in poor countries. Leila takes "Helping a Sister Out" to a global level.
9:30am – 12:00pm Interactive Workshops
9:30am – 10:30am Interactive Workshop: "You On Camera: Getting Comfortable with Video"

Being comfortable in front of the camera is essential in this day and age of visual and video media. Television and video media personality Danielle Smith will conduct mock interviews with volunteers from the audience then give feedback and tips while playing back the video recordings of the interviews. 
She'll share her best tips for being in front of the camera as well as some pointers for setting up your own video shoots. Throughout the weekend, she and Aliza will prompt you to record videos of your Gathering experience including ones where you're the star. Don't be shy! The more you practice being in front of the camera, the easier it gets. This is your time to shine!
10:30am – 11:30am Wine and Cheese Pairing Workshop: Jen Neary and Candace Karu from Cabot Cheese and our very own wine and cheese pairing "whiz" Natalie Wassum will lead a hands-on (and tasty!) workshop exploring how two of our favorite treats compliment each other. 
Follow Cabot on Facebook, Twitter and Pinterest. 
12:00-4:00pm Lunch and Winery Visits
12:00pm – 1:30pm Domaine Carneros - Lunch and sparkling wine tasting. Established in 1987, Domaine Carneros is considered a regional landmark. Eileen Crane heads Domaine Carneros' winemaking team, producing limited-production Sparkling Wine and Pinot Noir from grapes grown in their certified organic vineyards. The Domaine Carneros chateau offers exquisite views of endless vineyard-covered hills and makes for a perfect setting to enjoy lunch with some sparkling wine.
Follow Domaine Carneros on Facebook and Twitter. 
2:00pm – 4:00pm Palmaz Vineyards - Wine tasting. Palmaz was founded by Julio and Amalia Palmaz in 1997 on the site of an abandoned vineyard and winery at the foot of Mount George. The winery has since become a family affair with daughter Florencia, son Christian and daughter-in-law Jessica all working together.
The 55 acres of estate vines are planted primarily with Cabernet Sauvignon, with small lots of Merlot, Petit Verdot and Cabernet Franc for blending, as well as Chardonnay, Riesling, Muscat, and Malbec for limited production. The dramatic property's change in elevation from 400 to 1400 ft above sea level, offers multiple unique terroirs lending to the uniqueness of the Plamaz wines.
Follow Palmaz on Facebook and Twitter. 
4:15pm – 5:45pm Sassy Suite at Andaz Napa – Stop by, have a glass of wine, snack on cheese and other goodies. Plus, peruse the new Wine Sisterhood Shop merchandise! Attendance is optional. 
6:00pm The Hess Collection – Closing Dinner. The Hess Collection was founded on Donald Hess' belief that great wines come from vineyards of distinction. To emphasize and clarify this guiding principle, they continue to make changes to their brand tiers and labels to better reflect the vineyard site that each wine comes from. 
Mr. Hess is also well-known for his support of the arts and his extensive collection of contemporary art.  Gathering attendees are invited to a pre-dinner, private viewing at the Hess Collection Museum (housed in the original winery built in 1903). We'll be treated to a special dinner on the grounds of The Hess Collection that will celebrate a successful end to the Wine Sisterhood Gathering.
Follow the Hess Collection on Facebook and Twitter. 
Wednesday 3/6: 
Breakfast on your own.
Wine Sisters check out and farewell!
 We would be thrilled if you could join us!
If you need ANY help, feel free to contact our own Mary Ann Vangrin at 707-738-0338 and mvangrin@canopymanagement.net.
Take a look at last year's video for an insider's look at what guests are in for in 2013.